Assalammualaikum w.b.t
It was a tiring weekend. In fact last night balik from studio jer terus boom..tidoq..langsung taleh bukak mata..hukhukhuk..
Attended course with Nurul Shukor. Okla mak tu..sporting giler. Agak garang, but garang2 sayang gitu. Banyak giler tips dia. Bnyk giler skill dia..Amazed, truly amazed. Bridal makeup rate for Nurul Shukor ni RM1.2k-1.5k ye kawan2..But the touch memang superb! Ade discount for student..ngeee..
Day 1: Nurul taught the skills, tools, sume2 yang basic la..bertuah badan si dia kena tonyoh ngan Nurul...
Nurul's before & after.
See the one yg semangat pegang cam tu? Yupe, that's me..Day 1 was very sourceful. Turns out there's a lot of skills that I never discovered within myself all this while.
Day 2: Test! Grrr..
"Mak nak tengok gak skill korang. Buat2, mana rotan aku?? Hawau ko Pondan!"
Keluar dah Melaka dia..But he's really2 nice. Friendly, humble, sourceful, and most of all tak kedekut ilmu. No extra charge for his secrets skill. Siap bagi secret ingredient lagi ko..
Yang aku pelik tu, dia soh mekap partner masing2 with Bridal theme. Tapi bila tang aku dia soh buat dramatic plak..hancuss muka ku. Kesian partner. Since mataku sepet and tade eyelid, 80% of the makeup si Nurul yang buat. Pastu dia syok plak berjaya timbulkan eyelid aku. Takpela, kira untungla aku ni tak perlu bayar RM1.5k for her touch..yuhuu!
Then when it came to my turn make up my partner, still nk maintain the dramatic theme lagi. Berketaq tangan mak beb cikgu dok kt sebelah jer tak gerak2. Org lain tak nak pulak dia tengok..huhuhu..But he's very helpful la. Best sangat!
And here's the result..Tak puas hati sebenarnya sbb tak cukup tools. Color shades pun tak cukup. Pkaila mana yang ade jer..
Dramatic bride. However, nak lawan cikgu punya pasal I've tried to maintain the soft look. Overall, memang best. Team pun best. Anyone yang nak ambik makeup course, I strongly recommend her. Memang langsung tak berkira. Sayang ko mak..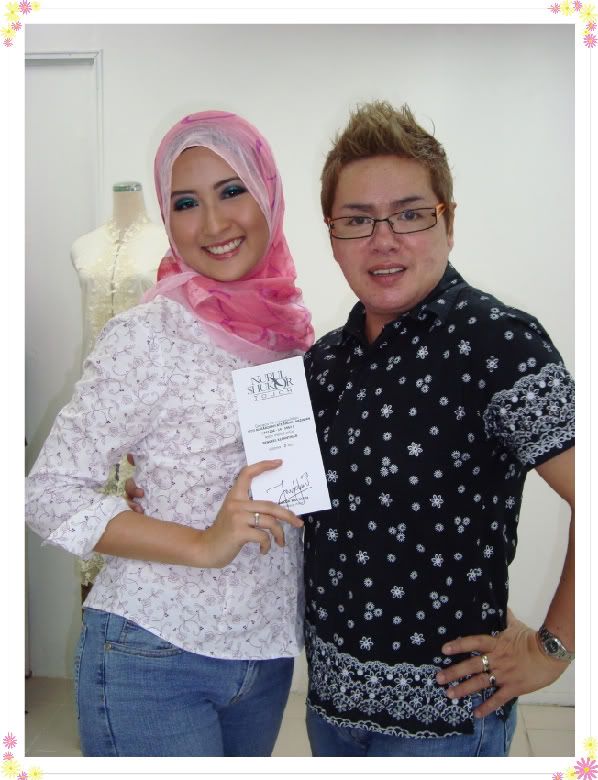 I'm certified now. Makeup anyone?