Salam,
I think I'm in love..
with
The Body Shop
..
Suke the 'save the environment' value
Suke the campaigns and charity
Suke the points get for every RM spent
Suke the 'this is a recycle paper'
Suke juga the 'paint with water base ink'
Suke the 100% plant based products
Boleh bawak sembahyang
Suke the brush set yg sangat cheap yet sangat best!
Sukee giler....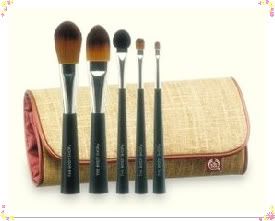 Aku jatuh chenta lagi..
Once upon a time, we were in love
But then we broke up over a betrayal..
I betrayed The Body Shop for more branded chemicals
Now we are back together..
I'm moving back to The Body Shop.
Farewell my dearest Dior, MAC, Bobbi, Givenchy, and sume2..
See ya again in my wedding hantaran!
*no exceptions ya
aChong
ku sayang*